Mattias Edvardsson (1977) is a writer and teacher from Trelleborg, Sweden. He is the author of five novels and several popular books for young readers.
Edvardsson's break-out psychological suspense novel A Nearly Normal Family was published by Forum in the summer of 2018 and has gone on to become a runaway bestseller.
In 2020, The House Next Door was published to great critical and commercial success, further establishing Edvardsson as a leading writer in the domestic noir genre on the international stage.
Mattias Edvardsson's latest novel, A Family Tragedy, was published in June, 2021 and instantly rose to the top of the bestseller lists.
Known for his addictive storytelling and relatable characters, Mattias Edvardsson's psychological suspense novels have been published in 35 territories around the world.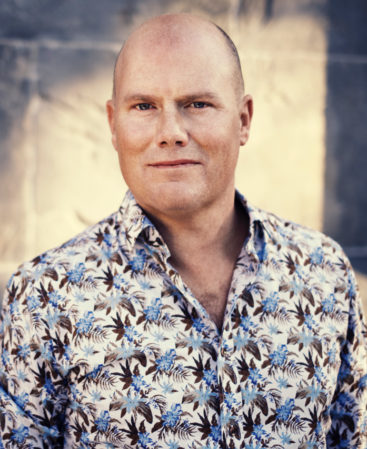 Reviews
"The great strength in Edvardsson's books (this is his fourth) is his ability to depict the ways in which ordinary life can start ripping at the seams. It's very relatable. And when it tears a bit more, you can still see yourself in it. Then, suddenly, everything is busted wide open and you are left with your heart racing, thinking that it is still a plausible thing that could happen to you. (…) This is an incredibly well-written psychological novel, Mattias Edvardsson is very skilled."
Dagens Nyheter (SE)
"In A Family Tragedy, Edvardsson utilizes the same storytelling techniques as in his two previous books. However, the voices do seem more pared down and clear, while the inserted articles and police hearings add a thrilling objective perspective. (…) Mattias Edvardsson is, as made evident in his earlier books, talented in the art of portraying ordinary people with good and bad sides while simultaneously charging them with a sort of undetonated unpredictability that creates tremendous suspense. A Family Tragedy is a powerful story about loss, sorrow, difficult childhoods and the search for love, but also a tale of impulsive actions, unfortunate coincidences and questionable ethics. (…) Is it ever possible to justify a serious crime, for example? Two things are for certain: there is no black and white in Edvardsson's world and this is very good, well-composed reading."
Skånska Dagbladet (SE)
"The master of chamber drama within Swedish suspense literature is back (…) 'A family tragedy' is a term often used dismissively; something unpleasant has happened in a family's private sphere, something that outsiders should keep out of. It is this historically contingent silence-culture Edvardsson intelligently – and indirectly –attacks with his new book. A tragedy is revealed already in the opening pages: the successful couple Steven and Regina Rytter are found dead in their luxurious Lund-villa. In order to find out how, and most importantly why, the reader gets to savour 370 pages filled to the brim with suspense-riddled and multi-layered writing; the book is also an odyssey for the trapped individual, someone ensnared in a multitude of dependencies. (…) It becomes a thrilling journey that includes thought-provoking anguish surrounding how to navigate difficult moral dilemmas as well as insightful meditations about different forms of dependency (…) I am certain that this book will be an obvious beach read for many – and many satisfied! – readers."
Kapprakt (SE)
"Elegant form and thrilling plot."
Deckardårarna (SE)
"The author's storytelling hooks you from page one. (…) Edvardsson offers the reader suspense and relational drama, while skillfully portraying the ordinary man's toil in attempting to make ends meet."
BTJ (SE)
"In A Family Tragedy, Mattias Edvardsson uses a technique of collective storytelling where the main characters' narratives alternate in different chapters. This creates an acute sense of being present in the moment and the reader is offered multiple 'truths' that are elegantly tied up in the end. (…) Skillfully crafted and plausible character portraits pull the reader into this tragic story."
Östgöta Correspondenten (SE)
"This is infinitely better than so much else that's written in this genre in Sweden. What makes Edvardsson so good is his ability to depict relationships. (…) The ability to, in a believable manner, write what will induce a normal person to do a horrible thing – that's Edvardsson's great talent. And he does it exceptionally well."
Yukiko Duke (SE)
"He is fantastic at depicting people. He gets under the skin of ordinary people that have been through a disaster. He tests people and sees what happens. (…) A Family Tragedy is much more than just a suspense novel."
SVT, Sommaröppet (SE)
"Edvardsson has created a psychologically charged drama that grabs hold of the reader with hook, line and sinker. It's so well-written that you are seized with compassion for the characters involved. You want them to be alright, even though you know that they are all fiction, and that they move in the grey area between truths and lies. But they could be real, you think. So, enjoy a story about a crime built on real-life stakes where the resolution is far from expected."
Ölandsbladet (SE)
"A new book from the super popular Mattias Edvardsson – and it's simply impossible to put down. (…) A thrilling mystery which is originally and elegantly told."
Jenny Lindh, TV4 Nyhetsmorgon (SE)
"When the book opens, the tragedy has already happened and so the plot consists of a puzzel of flashbacks in the shape of different voices and excerpts from police interrogations. A series of events randomly link a few people's destinies together."
Alingsås Tidning (SE)
"A darker image of the likeable couple emerges – and a number of potential perpetrators crystalize. What Edvardsson portrays is the psychological game that takes place between individuals, the desperation leading to tragic crime. He does so masterfully."
PROpensionären (SE)
"Mattias Edvardsson is phenomenal at creating psychologically twisted novels about everyday life."
Sveriges Radio P4 Västernorrland (SE)
"Mattias Edvardsson is a low-key and talented chronicler of contemporary society. He depicts group mentality in a way that brings out the chills and in the end you don't know what to think. Was it really an accident that Bianca got hit by a car?"
Dagens Nyheter (SE)
"In this psychological crime novel it is the very fact of not knowing that creates unease. There is more than one crime and questionable human behavior is at the heart of the drama."
Sveriges Radio, P4 (SE)
"The House Next Door is a quietly told crime novel that turns more thrilling and psychological by the minute and depicts what happens when the threat comes too close to you and your loved ones -without you really understanding what is happening…"
Borås Tidning (SE)
"The author behind the success A Nearly Normal Family returns with a claustrophobic story set in a suburban neighborhood. Suggestive ambience and wicked twists."
Göteborgs-Posten (SE)
"As usual, Mattias twists and turns the order of the world. What is safety? Where is the delicate divide between right and wrong? How well do you know your neighbors? And what happens when the threat moves into your own home?"
Smålandsposten (SE)
"The novel is tremendous, it keeps you on your toes from the first to the last page. Not a single one of the characters can be placed in the category 'the good guy' – they all have good and bad characteristics and the novel shocks you all the way to the end. Extremely good. Mattias really makes you think about your own neighbors and that you don't get to choose who you live next door to. It creates a creepy feeling, something Mattias is highly skilled at."
Podcast Deckardårarna (SE)
"Just like in A Nearly Normal Family, Edvardsson finds the perfect voice for each of his characters – not least the teenager Fabian – and splendidly depicts with claustrophobic nuance the different relationships that gradually become all the more tangled up and infected. He truly is a master at creating darkness and unease in the everyday, in situations we can all recognize. The House Next Door is a page-turner that makes you look at your own neighbors with a more suspicious eye […] further proof that Mattias Edvardsson is well on his way to establishing his very own niche in the Swedish crime genre."
Skånska Dagbladet (SE)
"The House Next Door has a classic mystery plot, but Edvardsson tells the story with finesse, suspense, and drive. He has written a real nail-biting thriller of international class. For those who like Harlan Coben and Linwood Barclay – read it."
BTJ (SE)
"What a page turner. You cannot put it down."
Sommaröppet, SVT (SE)
"The author behind the success A Nearly Normal Family returns with a claustrophobic story set in a suburban neighborhood. Suggestive ambience and wicked twists."
Göteborgs-Posten (SE)
"The author keeps you on your toes and ends the book with a twist. Well worth the read."
Hamar Arbeiderblad (NO)
"Did you enjoy the TV-series Big Little Lies? Then this book is for you."
Stavanger Aftenblad (NO)
"This is an intense, psychological domestic thriller with a shuddering feeling of suspense."
Arbeidets Rett (NO)
"Edvardsson offers a carefully constructed, suspenseful read."
Maasedun Tulevaisuus (FI)
"Addictive plot, short chapters, realistic characters. (…) Edvardsson is skilled at portraying everyday life."
Kodin Kuvalehti (FI)
"A detective story or psychological suspense? The twist in the last pages takes it closer to the first, but I rather see The House Next Door as a novel – an extremely intense family drama."
Kansan Uutiset (FI)
"Edvardsson's writing dives deep into the workings of the human mind. He can put into words different levels of emotion and action and combine them into a strong whole. In this respect, Edvardsson's writing beats many high-quality suspense novels."
Sotkamo-Lehti (FI)
"Mattias Edvardsson, a master of portraying character-psychology and relationships, is now releasing The House Next Door. The story of Micke and Bianca is told through a thrilling psychological."
Break (SK)
"The House Next Door is a thrilling and clever psychological novel. It exposes how thin the line is between right and wrong. It emphasize the safety you normally feel in your own neighborhood, and how misleading that feeling can be."
Pravda (SK)
"The House Next Door is another hit. […] One of my biggest reading experiences last year was A Nearly Normal Family by the Swedish author Mattias Edvardsson. I was captivated by his storytelling and the ingenious plot. In The House Next Door, Mattias Edvardsson uses the same storytelling technique, but the split between perspectives is not exactly the same. Now we are spun into the story by moving through different perspectives and timelines with each chapter. 'Spun' is a well chosen word for it. Because Mattias Edvardsson truly spins a spider's web. Not only am I completely caught by the plot, but he spinns me, like a spider, round and round until I cannot let go, or breathe. The character are caught in the same wild web, and keep spinning, too. Until the unthinkable happens. (…) Mattias Edvardsson has written another masterpiece."
Horsens Posten (DK)
"Mattias Edvardsson has in his new novel created a psychological thriller out of every day life situations, a setup designed to come close and crawl beneath the skin of most of us. In The House Next Door nothing is black or white, instead the drama plays out in a perpetual grey zone. […] Mattias Edvardsson shines in both his use of language and in his ability to depict the psychological urges of the human mind."
Johannas Deckarhörna (SE)
"One of this year's most highly anticipated books and expectations were sky high. And Yes! So good! Mattias Edvardsson has yet again written a clever and skillfully constructed psychological drama of the highest order. After I started reading, I couldn't stop. […] This novel is probably one notch better then his last one. I think its so nicely done – both the structure, the content and the language. […] I hope that this novel gets nominated to Book of the Year, next year! It will at least be one of my favorites from this year."
Malins Blogg (SE)
"The House Next Door is just as good as A Nearly Normal Family. It's well written and has a smooth flow – a page-turner. I appreciate the structure of the novel, that in every new chapter you follow different characters' thoughts, both before and after the accident. The book is at once thrilling and not predictable at all. I could not put it down, I highly recommend it."
Bims Blogg (SE)
"Mattias Edvardsson delivers once again a skillfully written psychological crime novel. […] Once more the author creates a fantastic set of characters, who feel real and unpredictable and where they all have both good and bad in them. In other words, just like all of us."
Romeo And Juliet (SE)
"Edvardsson has a drive to the story and soon you will be in the state of mind of '-just-one-more-chapter' – it's so difficult to put down. I enjoy how you gradually get under the characters' skin and the complexities of the characters grow far beyond what you thought from the beginning."
Litteraturkvalster (SE)
"Those who enjoyed Mattias Edvardsson's last novel, A Nearly Normal Family, and have had big expectations on the follow up, need not worry. You will recognize the craft and voice in the plot from the last book. The story follow the classic dramaturgical model where the suspense slowly builds, to let up just a touch, just the amount that make you as a reader relax just a bit, and then, when you are not expecting it, the story hits you at full force, making you completely lose your breath."
Just nu just här (SE)
"Mattias Edvardsson belongs in the cohort of my favorite authors. It might even be that he is at the top of that list. Mattias Edvardsson shows yet again how amazing he is at creating psychological suspense that gets underneath the skin of the reader. The House Next Door is at its core a creepy read, but it's so masterfully created that you must keep reading. […] That I'm already longing for the next book is no surprise. If you have not read anything by Mattias Edvardsson yet I highly recommend you do so. Immediately!"
Lottens Bokblogg (SE)
"The House Next Door has forever destroyed by romanticized view of the phenomenon neighbors, and I love it. It's dreadfully uneasy from page one, and completely impossible to put down. Flashbacks are skillfully combined with the present and three separate perspectives tell the horrid, addictive and brilliant story. Mattias Edvardsson does not disappoint!"
Tusen Sidor (SE)
"Taut page-turner."
Sun (UK)
"'Page-turner' One of the top seven thrillers for the summer."
The New York Times (US)
"About to conquer the world."
Adresseavisen (NO)
"An intense legal thriller that successfully plays realistic, gripping emotion against a shocking legal twist."
Booklist (US)
"A brilliantly composed, suspenseful Swedish psychological thriller."
Neue Welt (DE)
"Compulsively readable, not only as a thriller but as a study of a family."
Schwerter Zeitung (DE)
"An excellent Swedish courtroom thriller."
Jyllands Post (DK)
"A believing father, who has always wanted to do what is right without any mistakes, must begin to question his faith and sense of what is right to save his child. […] The pastor must act against his own ethics, while the mother, a defense attorney, must act against her own honor code."
Kaleva (FI)
"The Swedish author plays with our emotions gliding through the three protagonists' perspectives, challenging the reader to lay a complex puzzle. An extraordinarily well-composed thriller."
Télé 27 Jours (FR)
"A novel that manages to question truth, law, justice, and God."
La Lettura, Corriere Della Sera (IT)
"This 'thriller noir' is set to become the next literary phenomenon. It will be one of the summer's big bestsellers, and surely it will be your next beach read."
Elle Magazine (ES)
"A Nearly Normal Family is already a literary phenomenon in Spain. (…) In this fast paced story we follow a trial where the author discusses topics like paternal love, family, truth and justice. It's jammed packed with the haunting feeling of failure in raising and educating one's children."
La Voz De Galicia (ES)
"Quite simply, it's a unique and radiant plot – a family drama about relationships, stories and secrets with the walls of a home. How far will you go to protect your loved ones, are you ready to cross your own boundaries, what comes first; ethics and moral … or your family? The novel is extremely well-written and it catches your eye, it was impossible to stop before reaching the final page."
Beach's Books (DK)
"M.T. Edvardsson's page-turner, which is also translated by Rachel Willson-Broyles, is told in three parts, three voices and three perspectives, one for each member of the titular family, and it peels away the compromises we make with ourselves to be the people we believe our beloveds expect, revealing just how flimsy those pretenses can be."
The New York Times (US)
"A Nearly Normal Family is a uniquely organized and engrossing read."
Newsweek (US)
"A taut blend of legal thriller and domestic tale of suspense."
The Seattle Times (US)
"[The novel] addresses how far parents will go, morally and legally, to protect their children. […] First Adam, then Stella, and finally Ulrika, offer narratives about what happened and their assigned roles within this 'nearly normal' Swedish family."
The Star (US)
"Edvardsson's precise understanding of human behaviour and the lies we tell to save those we love makes for a potent legal thriller."
BBC (UK)
"As dad, daughter and finally mother tell their stories, all the passion, fear, disappointment, lies and rage of family life unspool into a tense courtroom drama that holds on to its secrets to the final page."
The Times (UK)
"A brilliant and clever story."
Prima Magazine (UK)
"Edvardsson is a master of suspense, and digs deep into the inner workings of the family. He has written an impressive page turner about three people in crisis."
Stavanger Aftenblad (NO)
"'We were a perfectly ordinary family,'" insists Adam Sandell, a pastor and one of three narrators in Swedish author M.T. Edvardsson's involving, sharply written A Nearly Normal Family […]  Diagramming how things went awry is one purpose of Adam's lengthy monologue, which takes up a large chunk of this shrewdly constructed story. […] When Stella takes over the narrative, she proves to be more than a shrewd observer of her own predicament. […] Stella transforms the novel's events, and then her mother, herself a lawyer, gives this surprise-filled saga its final turn. Mr. Edvardsson, whose Swedish is translated here by Rachel Willson-Broyles, is a fine stylist. A Nearly Normal Family, the author's first book to be published in this country, is a compulsively readable tour de force."
The Wall Street Journal (US)
"It's not often that you have a stomache-ache when reading a suspense novel. Usually, the plot is far from one's own life, so that you're able to be frightened in a pleasant and comfortable way. In this case, you're stuck in a state of true unease. The parents' anxiety is contagious. You grow mad of all that is left unsaid, the lack of communication and trust. At the same time, you understand the characters involved. They are human, through and through, and victims of their own shortcomings as well as the inequality of society and the legal system. Simply put, Mattias Edvardsson writes with impressive psychological drive. The portrayal is so convincing that it feels as though a close friend is caught up in the story. The plot is so skillfully constructed that you don't find out how it ends until the very last pages  – and then it surprises in every possible way. On top of that, there is a much needed and important critique of the arbitrary way that abused women are treated by the legal system. But, most of all, one is left with an alarming sense of how vulnerable life is."
Norra Skåne (SE)
"Mattias Edvardsson has a unique story to tell, about the helplessness of parents in the face of their own children, in the face of one another and of themselves. You meet. You fall in love. You get married and and have children (if you're lucky). It doesn't quite turn out the way you imagined. And years later, you look back and realize that all your actions, the ones that seemed right in the moment, led to something completely different. You're not even the person you imagined. […] Perhaps it's the chronicle of the mundane that fascinates the most in A Nearly Normal Family. That feeling that stems from parents and children looking at each other and thinking: 'You don't know who I am. What do you think of me? And what do I think of myself?'"
Lotta Olsson, Dagens Nyheter (SE)
"A Nearly Normal Family is endlessly thrilling about the turbulence surrounding a family that's crumbling, and the secrets that have been laid bare. Is nothing what it seems? Mattias Edvardsson has written a deeply moving psychological thriller with many layers and many questions, and with answers that surprises."
Smålandsposten (SE)
"This is a real page turner. […] The book is structured in a way that gives us the father's, the mother's, and the daughter's stories in separate parts, and the truth is revealed piece by piece. A perfect summer read on the beach."
Aftonbladet (SE)
"It's a multilayered, elegantly written story about guilt and young women's vulnerability. I'm hooked from the very first page. Edvardsson is a master of depicting psychology. The talk of the summer!"
Amelia (SE)
"Mattias Edvardsson captures the three seperate voices with great sensibility – the anxious pastor, the weathered attorney, and the daughter who is one hundred percent teenager […] Who is telling the truth is less important; rather, the burning question is what you are willing to do to protect your loved ones. None of the members of the family can be trusted. -these three perspectives make the thriller stand out."
Sydsvenskan (SE)
"A Nearly Normal Family is a grain of gold among this year's books."
Johannasdeckarhörna, Blog (SE)
"It's a book that shows how little you know about those you hold dear, and it puts the very definition of the word loyalty to the test. It's well written, smart and suspenseful novel and, to use a terribly worn-out-phrase, a real page turner. I recommend it!"
Vastman Bok, Blog (SE)
"What seemed so obvious at first turns into something completely different. Things are always lurking under seemingly perfect surfaces and in this story you won't know what's what until the very last page. Just read it. Writing about it won't do it justice, so just read it!"
Vargnatts Bokhylla, Blog (SE)
"If Quicksand by Malin Persson Giolito was the most talked about title of 2016, then this year belongs to Mattias Edvardsson. The book is so crazy good, reading it makes me euphoric."
I Hyllan, Blog (SE)
"A Nearly Normal Family is a relationship drama that gives rise to many ethical questions. It's enormously suspenseful until the very end, and the ending knocked me out completely."
Just Nu Just Här, Blog (SE)
"It's feels true and honest. The feelings are real and it's easy to identify. […] Well written, elegant, simple and so substantial […] This is a book about love, youth, relationships, friendship, marriage, family and life while its happening."
Erikas Bokprat, Blog (SE)
"In short: A Nearly Normal Family is one of the highlights this summer."
Boktokig, Blog (SE)
"An incredibly well-written book about family, truth and lies, spirituality, veneer, love, contempt… everything's in here and it's impossible to stop reading. I carried it with me everywhere, even on days when I knew that I wouldn't have a minute left for reading – just in case! […] Edvardsson is a master of telling a thrilling story that never becomes predictable or feels made up."
Annzah, Blog (SE)
Awards
2021 – Le Prix des Nouvelles Voix du Polar Pocket for A Nearly Normal Family