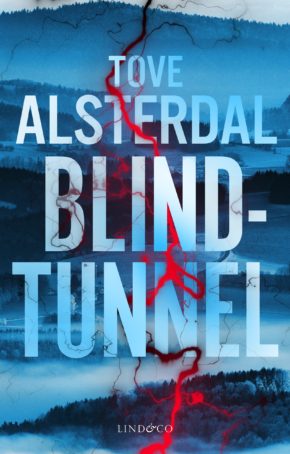 Buried tunnels. Cries echoing underfoot. The blood of a repressed history running through your neighbour's veins…
Sonja and Daniel are an established middle-aged couple who, in a last attempt to save their failing marriage, decide to leave Sweden and follow their dream of buying a vineyard. When Daniel finds a dilapidated estate in Bohemia in the Czech Republic, an area also known as Sudetenland, they buy the property and one-way tickets to a new life.
Daniel is depressed with unpredictable moods and Sonja takes refuge to the village inn where she befriends a mysterious woman: Anna Jones is coy about her reasons for visiting the area, but shows a keen interest in their vineyard. As a lawyer, maybe she can help Sonja and Daniel with the missing paperwork for their house purchase – is something amiss with the sale? Sonja also meets Ján Kahuda, an old man whose father worked as the estate's gardener decades prior. He offers to help with the garden, and Sonja happily agrees. But when Ján turns up in strange places, Daniel grows alarmed and aggressive. Is the old man confused, or does he have an agenda?
One night, Daniel wakes Sonja and leads her down into the house's deep basement. He has found an opening to a concealed tunnel. As they climb inside, they find themselves in an old wine cellar filled with dusty bottles. Sonja wanders further into the tunnel where she makes a frightening find: the mummified corpse of a young boy. His clothes are dated and he wears a white armband. In his pocket is a German Reichsmark from 1943. The local police don't want to dig further into the case of the dead boy, despite Sonja and Daniel's protests. An unspoken threat lingers in the air. When Anna Jones is found dead on their property and Daniel is arrested for the murder, Sonja realizes she may have stumbled upon something that people are willing to kill to keep hidden. As her life unravels around her, Sonja starts digging into what happened in the area at the end of the Second World War and uncovers a horrific story the villagers desperately want to keep secret. It also becomes clear that Anna Jones hadn't been honest; her interest in the vineyard was deeper than she let on…
History and present intertwine in a riveting tale about human brutality – and loyalty. In a town without mirrors, the past may be erased but the departed will not be forgotten. The living carry the dead in this beautifully written and exceptionally atmospheric suspense novel. With Erasure, master storyteller Tove Alsterdal offers a new perspective on a history we all thought we knew and asks the question: to what ends will we go to save ourselves and the memories of those we love?
Reviews
"Tove Alsterdal stands out in the suspense genre with an illuminating social perspective."
Aftonbladet (SE)
"The atmosphere is as eerie as in a horror movie: the creaking old estate without a single mirror, the overgrown garden that extends down to the river, the cellar that isn't really consistent with the plans, an alarming sense of impending catastrophe. […] Few can write like Tove Alsterdal. She has a style of her own and a directness to her tone, and portrays people who are neither downright good nor bad. It is human and that's what makes it so frightening: everyone can commit evil deeds, and everyone can keep fateful secrets."
Lotta Olsson, Dagens Nyheter (SE)
"This is a thrilling page-turner. But Tove Alsterdal's Erasure is also a subtle psychological novel about relationships, a captivating historical novel about life in a borderland, and a thought-provoking, philosophical novel. […] Breathlessly, the reader gets to experience how silenced and hidden stories from the past and people's inner depths are brought into the light – in a way Tove Alsterdal does like no other. Cleverly, delicately, masterfully."
Västerbottenskuriren (SE)
"[Alsterdal's] nuanced and restrained prose not only gives authenticity to the characters and milieus, and the same fenomen heightens the suspense. […] What builds her plot isn't the calculated or unlikely, it's rather the structured and comprehensive. The wisdom of history, the return of injustice from the century when the idiocy of nationalism devastated the continent. History is the murderer, now and then. […] A true history lesson, a tale in the minor key."
Norrbottenskuriren (SE)
"When Tove Alsterdal publishes a new book, critics sit prepared to give the highest marks. Erasure has now been translated into Norwegian, and yes – she meets the expectations – because her writing is superb, and her storytelling is excellent. […] Here, Alsterdal shows just how good she is: the grand, political story doesn't just serve as a shallow backdrop for a crime mystery. On the contrary: the greater story of war, about friends who became enemies, about injustices and ownership, almost becomes more thrilling than the mystery of a dead boy found in the tunnel under the vineyard. Almost. Because it's impossible to separate the two stories, they are intertwined into one other and create a propulsion and depth that is rarely seen in the crime genre."
Stavanger Aftenblad, 5/6 Stars (NO)
"A thrilling history lesson. […] An incredibly exciting book that on the one hand provides insight into a part of European history that few of us knew anything about. And on the other hand it's a moving and psychological plunge into the workings of a collapsing relationship."
Adresseavisen, 5/6 Stars (NO)
"Erasure is a novel about a time, an era, and history. But it is also both thrilling and moving, it is after all written by Tove Alsterdal, which is always a guarantee for quality. […] In Erasure she elevates her authorship further. She tells a story that may be fictive, but that nonetheless stems from many actual human fates. And she does so with precision and great empathy."
Smålandsposten (SE)
"This beautiful novel explores a little-known period after World War II where a large German population once lived."
Télé Loisirs (FR)
"I really enjoyed the author's style and the prism through which she chose to tell this story. A beautiful reflection on the memory of the past! I've only just discovered Tove Alsterdal with her fifth novel, and I will continue to follow her."
Livresse Du Noir, Blog (FR)
"A stunning novel full of twists and turns, that portrays both a modern couple whose relationship has run its course, and a piece of history that never ceases to echo in the present."
En Lisant, En Écrivant, Blog (FR)
"The author suceeds to interweave historical facts, politics, the present and the past. She gives us family secrets hidden beneath a leaden cover of silence and history. I won't forget her descriptions of the village, the countryside, the roses of the vinyard and its former glory that makes you want to visit Bohemia. I am infatuated with this mystery novel and it's above all the historical aspect that gives it flavour. I love to discover topics I don't know anything about. […] The threads of this grand story are tied tigether with great talent and respect. […] An excellent read!"
L'Atelier De Litote, Blog (FR)