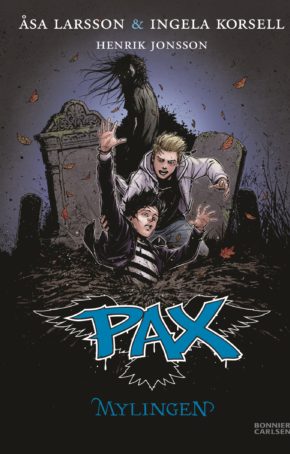 The Myling picks up right where the second book in the PAX series, The Grim, left off.
After a life-and-death battle with a vicious Grim, brothers Alrik and Viggo are ready for things to quiet down a bit. But the dark forces are growing stronger – especially as Halloween is around the corner, a day when the boundaries between the world of the dead and world of the living become blurred. Guardians Estrid and Magnar worry, as the magic library's shield gets weaker by the day…
The terrifying ghost of a dead girl begins to haunt the town of Mariefred, set on revenge for an injustice from long ago. How can the Myling be stopped before she grows powerful enough to kill?
Meanwhile, Alrik meets a mysterious girl whom he can't seem to get off his mind. But who is Iris really? And when a beloved friend makes an unexpected come-back, Alrik and Viggo gain a furry sidekick in their adventures.
The Myling is the third book in the critically acclaimed PAX series.
Reviews
"Swedish monsters are in focus and they're so fantastic that I'd venture to guess that horror creatures will be our next great export […] The text is interspered with comic-book style illustrations by Henrik Jonsson. He shifts perspective in a perfect rhythm; closeups of a skull are followed by evocative shadows in the distance, in a illustrative style reminiscent of Rolf Gohs' Mysterious Two series […] The PAX series is so immediate and thrilling that it will get even the most reluctant readers to approach books, yet its most important achievement is the fact that it restores mystery to the act of reading."
Dagens Nyheter (SE)
"Urban fantasy is mixed with elements of horror. Henrik Jonssons impactful black-and-white illustrations play a great part – the sketches are excellent, very detailed and extremely scary. (…) The approachable language, the mix of text and illustrations lightening things up, and the thrilling atmosphere makes you want to put the book in the hands of even reluctant (yet brave!) readers."
BTJ (SE)
"The Myling is actually among the best ghost stories I've ever read – definitely in the same league as the best horror I've seen in movies and on TV. Quite simply a world class ghost story!"
Old Adult Reads Young Adult (SE)
"The writing style is smooth and easy to understand, without too many difficult words. The stories always have the exact amount of scary, but never so much that it won't be suitable for children. […] You must read this series!"
Scattys Bücherblog, Blog (DE)